Seulement 14 de ses Catalina dit "Swiss Cheese" ont été fabriqué en 1963 avec une raison en tête !!! La piste de drag  

Et cet exemplaire serait le plus célèbre . Vous vous demandez pourquoi on les surnommait "Swis Cheese" ?? C'est qu'on leur a fait environ 120 trous sur les rails du châssis
Ca a pris 530,000 bonnes raisons au nouveau proprio afin de pouvoir le ramener a la maison  

Mais quelle belle machine n'Est-ce pas ??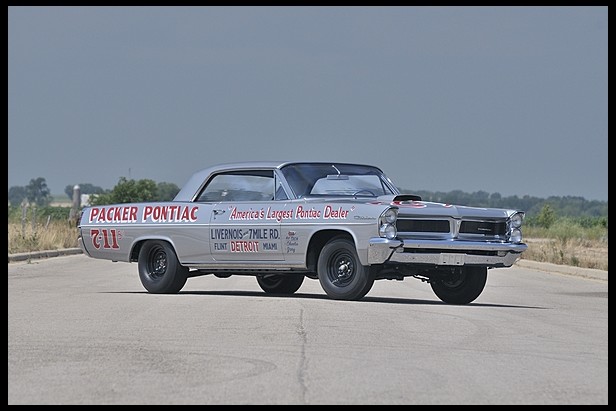 Mecum Auction a écrit:As the 1962 drag season drew to a close, it was obvious that Pontiac's position at the top of the Super Stock hierarchy was weakening. Ford, Chrysler and Chevrolet were gaining on the Chiefs with bigger engines and an ever-increasing supply of special parts, including weight-saving aluminum components and body panels. Pontiac engineers knew they had to have a lighter, more powerful car for 1963, and it came in the form of a special Catalina bearing some serious modifications. First the chassis was altered by cutting the inside section away from the boxed rails, leaving a U-shaped section. Then approximately 120 holes were drilled in the sides of the frame rails, removing as much material as possible while maintaining a semblance of structural integrity, resulting in the "Swiss Cheese" moniker that remains today.

Further mods involved deleting the front sway bar and substituting an aluminum bellhousing and third member for the original pieces. It did not stop there: insulation and sound deadener was dropped, aluminum body panels were used wherever possible, including the hood, inner and outer front fenders, splash pan, radiator bulkhead, bumpers and brackets. Plexiglas windows were also available to further reduce the car's heft. Even the cast iron exhaust manifolds were replaced with special high-flow aluminum units with integral cutouts. These proved suitable only for short periods of use given their tendency to melt under prolonged operation.

The 421 engine used in the Swiss Cheese Catalina was treated to 13.0:1 Mickey Thompson pistons, a #10 McKellar camshaft, lightweight valves in reworked heads, heavy duty rotating assembly and a lightweight flywheel. Carburetion was by twin Carter AFBs atop a special aluminum manifold. Rated at 410 horsepower, the engine brought the car's total weight to 3,308 pounds and propelled it to 12-second times at 120 MPH. The cars were originally equipped with Borg Warner 3-speeds with aluminum tail sections and aluminum-case 4.30:1 Positraction differentials; most were converted to close-ratio BW 4-speeds and either 4.56 or 4.88 rear gears.

The 1963 "Swiss Cheese" Catalina offered here is perhaps the most famous of the 14 built before GM's racing ban. Sponsored by Packer Pontiac of Detroit, it was driven in 1963 by Packer employee Howard Maselles, who set the NHRA C/Stock class record with a 12.27 ET at 114.64 MPH, a record that stood for several years. The car was discovered in the late '70s by famed Pontiac collector and historian Randy Williams, and was the first of several historically significant Super Duty Pontiacs that formed his famous collection. After years of collecting a vast treasure trove of Pontiac NOS parts and pieces, Williams and his good friend Scott Tiemann of Supercar Specialties in Portland, Michigan, began restoring the car, completing the project in 2000.

Today the Packer Pontiac "Swiss Cheese" Catalina is regarded as the reference point for this rare group of Pontiac lightweight factory racers, a monument to Randy Williams' dedication to preserving Pontiac history and to Scott Tiemann's world class craftsmanship and expertise. It is extensively documented by the records and photographs compiled by Howard Maselles, including the original "For Sale" flyer created by Maselles to sell the car at the end of the 1963 season.
 
HIGHLIGHTS

- 1 of only 14 "Swiss Cheese" Catalinas ever built
- Formerly of the Randy Williams Super Duty Collection
- Full frame-off restoration completed in 2000 by expert restorer Scott Tiemann
- Discovered in the late 1970s by Randy Williams
- Sponsored by Packer Pontiac of Detroit, and driven by Packer employee Howard Maselles
- NHRA C/Stock record holder
- Super Duty 421/405 HP engine
- Borg Warner heavy duty T-85 3-speed transmission
- Frost Silver, Blue interior with full as-original lettering
- The most famous of the 14 "Swiss Cheese" Super Duty lightweight Catalinas
Fondateur




Ville/Région

: Beauce Nord


Nombre de messages

: 6449


Date d'inscription :

01/10/2004


Voiture(s)

: Skylark Custom 1968



Maniaque





Ville/Région

: joliette


Nombre de messages

: 712


Date d'inscription :

04/03/2008



J'adore ce Catalina gratiné !!!
Mordu





Ville/Région

: Deux-Montagnes


Nombre de messages

: 388


Date d'inscription :

22/09/2010


Voiture(s)

: Camaro Z28 1972




---
Permission de ce forum:
Vous
ne pouvez pas
répondre aux sujets dans ce forum