Bonjour Amateurs de voitures sauvages !

Voici l'une des 38 Yenko SC427 Nova converties par Don Yenko en 1969 .
Qualifié d'a peine légale et de la plus sauvage voiture sortie de chez Don Yenko a Canonsburg en Pennsylvanie . On estime qu'une dizaine auraient survécus avec le temps . Et cet exemplaire pourrait brisé la marque des 500,000$ au mois de janvier prochain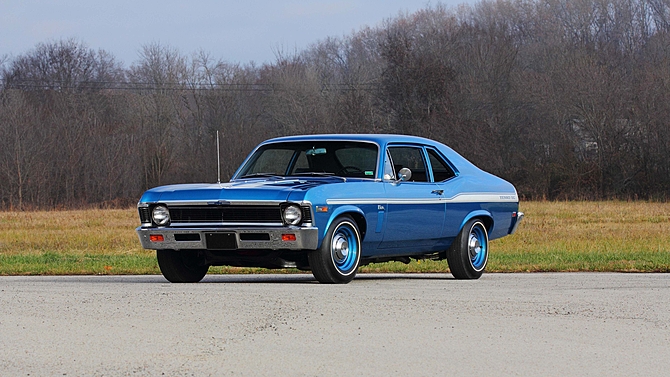 Mecum Auctions a écrit:
Don Yenko was responsible for some of the hottest-performing muscle cars of the '60s and '70s, but when it came to producing the Yenko SC427 Nova, even he had second thoughts about putting together a machine he once referred to as "barely legal at best" and "the wildest thing we ever did" in describing why GM refused to build them through the COPO program. Indeed, GM brass was specifically concerned with product liability issues with a car that could blithely trailer a similarly equipped Corvette. While they may have agreed with great reluctance to produce 427-powered versions of the Camaro and Chevelle, loading the lightweight Nova with that much firepower was out of the question. Nonetheless, Yenko Chevrolet converted at total of 38 SC427 Novas according to the Yenko Sportscar Club.

As he had done with the Yenko Super Camaros conversions in 1967 and '68, Yenko began with cars equipped at the factory with available 396 CI engines to take advantage of their beefier frames, drivelines, brakes and suspensions. In their place, Yenko installed an 11.0:1 compression L72 427/450 HP engine, resulting in a car capable of neck-snapping acceleration and sub-11 second quarter mile times. In fact, one Yenko SC427 Nova ran track tested zero-to-sixty in 5.1 second with an official speed of around 120 MPH.

Fewer than ten Yenko SC427 Novas are known to exist today, including this impressive coupe that is equipped with the aforementioned L72 engine, a 4-speed manual transmission and 4.10:1 Positraction third member. Restored in frame-off fashion approximately 15 years ago, its LeMans Blue paint wears the contrasting Yenko stripes and graphics that serve notice to potential challengers what they are up against. While most Yenkos were equipped with Astro five-spoke aluminum wheels, it seems most SC427 Novas were delivered with the matching painted steel wheels and dog-dish hubcaps seen on this example, which also features a Black bench-seat interior and an AM radio.

The car is well known in the muscle car community, and its quality has attracted the attention of such periodicals as Chevy Rumble magazine, which featured the car in its January 2005 issue; Muscle Car Enthusiast Magazine (January 2006) and Collectible Automobile (October 2010) featured the car as well. It has also collected an abundance of awards, including the Gold Spinner Award at the 2004 Chevy VetteFest, invitations to the 2008 Milwaukee Masterpiece and the 2011 Eyes on Design show and Best of Class at the 2012 Ault Park Concours. In addition, this Yenko SC427 Nova was featured on page 156 of "Yenko: The Man, The Machines, The Legend" by Bob McClurg.


HIGHLIGHTS

- Gold Spinner Award at 2004 Chevy VetteFest
- 2008 Masterpiece Style and Speed
- Invitational car 2011 Eyes on Design
- Best of Class 2012 Ault Park Concours
- NICB report indicating that the car was delivered to Yenko Chevrolet
- Eyes on Design invitational car
- Frame-off restoration approximately 15 years ago
- 427/450 HP engine
- 4-speed transmission
- 4.10 Positraction rear end
- Power brakes
- Lemans Blue with White Yenko stripes
- Black bench seat interior
- AM radio
- Body-colored steel wheels
- Dog dish hubcaps
- Featured in Chevy Rumble Magazine, January 2005
- Muscle Car Enthusiast Magazine, January 2006
- Collectible Automobile, October 2010
Source Mecum
Fondateur




Ville/Région

: Beauce Nord


Nombre de messages

: 6449


Date d'inscription :

01/10/2004


Voiture(s)

: Skylark Custom 1968



beau bijou asser rare merci je le prendrais bien il serais beau dans mon garage
Maniaque





Ville/Région

: beauce nord


Nombre de messages

: 511


Date d'inscription :

15/02/2015


Voiture(s)

: nova SS 74 CORVETTE 2010 GRAND SPORT



Il est super beau!Ca doit pas être trop dur à allumer les petits flancs blancs!
Prospect





Ville/Région

: Saguenay


Nombre de messages

: 41


Date d'inscription :

31/12/2014



Il n'a pas le sYc sur les appuis têtes ?
Vétéran





Ville/Région

: st-zénon


Nombre de messages

: 1275


Date d'inscription :

08/03/2011


Voiture(s)

: nova 72 396 chevelle ss 468 1970 pro touring ,monte carlo 73 454, silverado 2014, sierra 2500,versa 2007,atc250r,350x,250sx 1986,xr650r 2001




---
Permission de ce forum:
Vous
ne pouvez pas
répondre aux sujets dans ce forum